Home Made Baklava
Welcome to our mouth-watering home-made baklava. We take pride in bringing you the best and most authentic baklava experience, made right here in our kitchen with the freshest ingredients. Our recipe has been carefully crafted for the perfect balance of buttery phyllo pastry, syrup, and a generous filling of walnuts, all topped with a sprinkling of pistachios. Each pastry is expertly layered and baked to perfection, resulting in a crispy exterior and moist interior. Ideal for special occasions or just as a sweet treat any time of day. Don't settle for mediocre baklava - try ours and taste the difference!
Our Baklava has a moderate amount of syrup - the way we like it - this way you can taste the flavor of all the ingredients, and get less sugar than with other baklava's.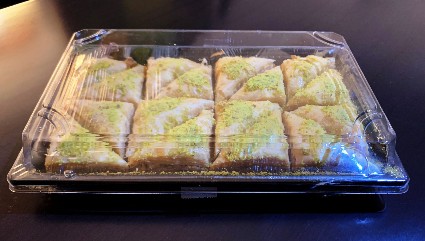 Time for Sweets - 16 Piece Baklava Box
Freshly Home-made
$24.95 FREE Shipping
Your order will be shipped by USPS first class. Please Allow 3-5 business days for delivery.